The building and construction trades have always been indispensable to society; during the last 50 years, however, technological developments have resulted in great strides in efficiency, enabling projects to be completed at a faster rate and with less physical labor. These advances have also allowed for entirely new trades to develop, creating more jobs and a demand for highly skilled workers with up-to-date training. Specific trades include carpentry, concrete masonry, electrical, heating and air conditioning, plumbing, and dozens of others. Trades are organized into specific sectors such as home building, nonresidential building, and highway construction; together, these account for about 19 percent of the country's employment.

One area of building and construction that has experienced much change within the last half-century is the home building sector. Today's homes are substantially larger and contain more labor-saving devices which necessitate additional wiring and plumbing. In order to keep up with the increased demand for larger, more sophisticated homes, many building materials are prefabricated, saving the builder a considerable amount of time. Today's builder can take advantage of more efficient building practices, but he or she must also have successful managerial, planning, and scheduling skills to oversee the entire process. Building is cyclical, and the construction of new homes in turn boosts the need for construction in other areas, including highway development, schools, commercial establishments, grocery stores and gas stations. During a housing crisis, the focus turns to renovation of existing housing.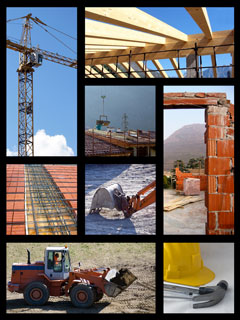 Building and construction trades offer more opportunities for self-employment than most other industries, and many skills can cross over between individual trades, allowing for wider employment opportunities. As we move into the future, the need for construction and restoration of schools, highways, and bridges is expected to grow, especially in the South and West, which are experiencing the highest growth in population. Whether through new building or updating of existing structures, the building and construction trades provide tangible solutions to our needs and help shape the communities in which we live.

For more information about the construction industry, read The Construction Industry, and visit the National Center for Construction Education, Associated General Contractors of America, Associated Builders and Contractors, and Home Builders Institute websites. For information about building trades education, visit the American College of Building Arts website.
Regional Directory Categories
---
Copyright © 2011-2015 RegionalDirectory.us.
All rights reserved.

Construction Contractors & Building Trades
Construction Tags